Role of The Physician Assistant (PA)
What is a PA? PAs are medical providers who evaluate the patient through history and physical exam, interpret tests and imaging, diagnose illness, develop and manage treatment plans, prescribe medications, perform procedures, assist in surgery, and educate on preventative care.
What is required to become a PA? PAs are educated at a master's degree level, must graduate from an accredited PA program, and pass a nationwide certification exam. With thousands of hours of medical training, PAs are versatile and collaborative.
PAs are committed to team practice with physicians and other healthcare providers. The PA profession has been well established for over 50 years, highly trusted professionals, and essential to the healthcare workforce. PAs make it easier to get medical appointments and PAs improve the quality of healthcare.
Here at Buffalo Spine and Sports Medicine, our PAs have undergone additional specialty training in physical medicine and rehabilitation. Ours PAs are trained to provide excellent diagnostic and treatment options including ultrasound evaluation, trigger point injections, joint injections under ultrasound guidance, neurotoxin injections for the treatment of migraines etc.
For more information on the physician assistant profession, please visit https://www.aapa.org/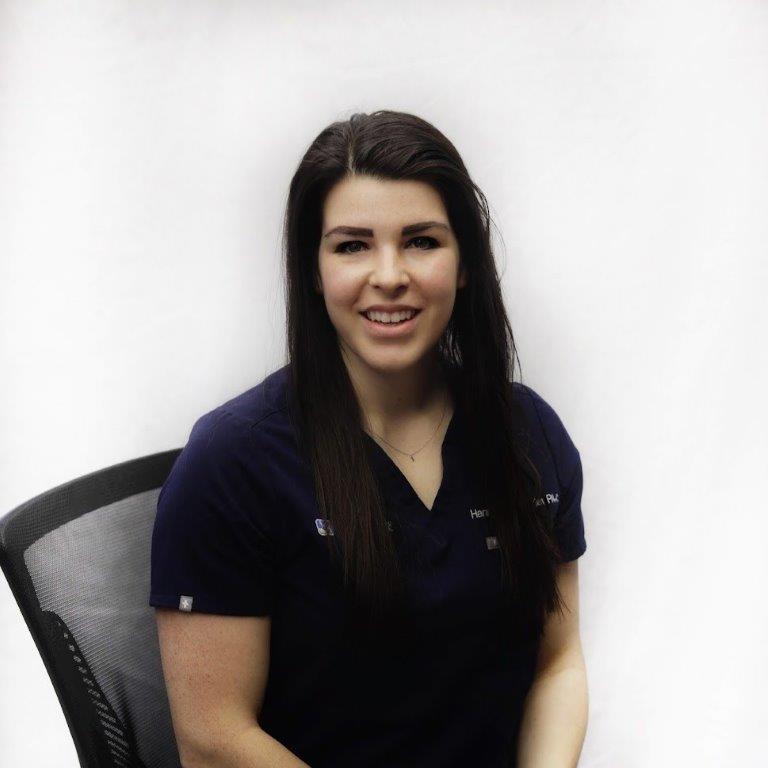 Hannah Daigler RPA-C
Specialty
Physical Medicine and Rehabilitation
Board Certifications
NCCPA Board Certified
Education
Masters Physician Assistant Studies, Mercyhurst University 2018 Summa Cum Laude
Bachelor of Science in Biology, Houghton College 2015 Magna Cum Laude
Clinical Experience
Chiropractic Assistant, MultiCare Center 2015
Medical Assistant, Jericho Road Community Health Center 2015-2016
Volunteer
Volunteer Case Worker at the Priscilla Project, Buffalo NY 2015-2016
AOR Representative at the AAPA Conference, Las Vegas, NV 2017
Certifications
BLS and ACLS Certified
Professional Organizations
American Academy of Physician Assistants Member
Sigma Zeta Math and Honors Society Member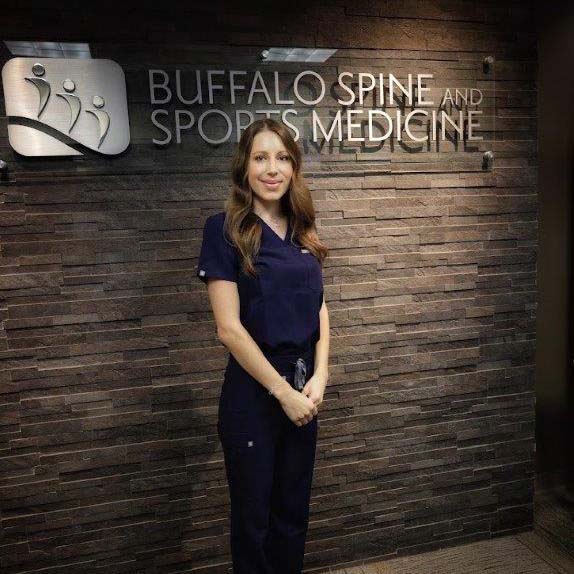 Olivia Michaels MPAS, PA-C
Olivia went to Niagara University for her undergraduate studies and achieved a bachelor's degree in Biology. During this time, she volunteered on a medical mission trip to the Dominican Republic where over 1,000 patients were evaluated and treated. She then continued her education at D'Youville College where she completed Physician Assistant Studies. After graduation, Olivia worked at Buffalo General Hospital specializing in cardiology for 2.5 years. She then started at Buffalo Spine and Sports Medicine in 2021.
Achievements, Certifications
Member of the Western New York Physician Assistant Association
Member of New York State Society of Physician Assistants
Member of Beta Beta Beta Biological Honor Society Eta Xi Chapter
Member of International Society of Aesthetic Medical Professionals.
Certifications in neurotoxin and SkinPen micro-needling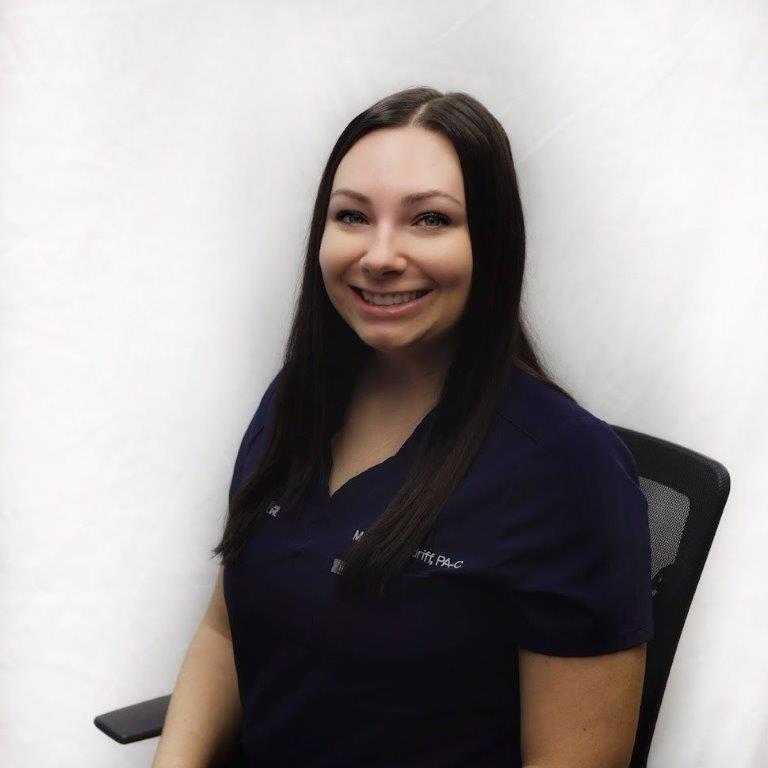 Martina Waldriff PA-C
Education
Master's Physician Assistant Studies, D'Youville College 2018.
Certifications

Child Abuse Recognition Certified
Infection Control Certified
HIPAA Certified
CPR Certified
Opioid Overdose Prevention & Naloxone Training
DEA
NYS License
Board Certified
Volunteer
Roswell Park Cancer Institute Buffalo, NY
Northgate Health Care Facility Buffalo, NY
Professional Organizations
Lambda Kappa Sigma
WNYPAA
NYSSPA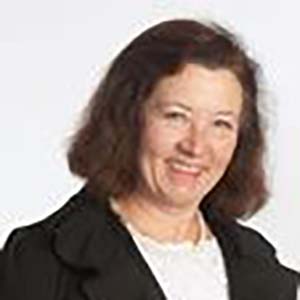 Lynne Fries PA-C, MPAS, DPT
Specialties
Physical Medicine and Rehabilitation,
Spine, Occupational and Sports Medicine
Board Certifications
Physician Assistant -New York
National Commission on Certification of Physician Assistants
(Tied for Highest National Score on 1999 Certifying Examination)
National Commission on Certification of Physician Assistants
Surgery Examination - Special Recognition Status
Performance Ranking in 95th Percentile of 1999 Candidates Physical Therapy - New York
Education
Health Sciences Teaching and Learning Certificate - 2010
Massachusetts General Hospital Institute for Health Professions

Doctor of Physical Therapy, September 2005 Cum laude
Massachusetts General Hospital Institute for Health Professions

Master of Physician Assistant Studies, December 2000
Specialized in Internal Medicine Summa cum laude University of Nebraska Medical Center

Bachelor of Science, Magna Cum Laude - May 1999
Physician Assistant Program D'Youville College

Bachelor of Science, Cum Laude - May 1980
Department of Physical Therapy State University of New York at Buffalo
Clinical Experience
Exigence Hospitalist Service, Inpatient Medical Care - per diem, Mount Saint Mary Hospital
Inpatient Service, Erie County Medical Center - Inpatient Service and Medical Rehabilitation Unit
October 2007 to present

Academic Medicine Service
University Internal Medicine and Pediatrics Adult Cystic Fibrosis
Program and Adult Inpatient Care
The Lung & Cystic Fibrosis Center

University at Buffalo Pediatric Associates, Inc.
219 Bryant Street, Buffalo, NY 14222
February to April 2006 and February 2007 to present

Aurora Hospitalist Service
Inpatient Medical Care Mercy Hospital
May 2006 to February 2007

Kaleida Health System's Women and Children's Hospital of Buffalo
Adult Medicine Service
July 2001 to Feb 2006

Buffalo General Hospital
Department of Medicine Inpatient
Internal Medicine Teaching Service
November 2000 to July 2001

Private Service - Inpatient Coverage
January 2000 to July 2001

Rehab NY
David Bagnall MD
Physiatry Practice Specializing in Musculoskeletal Care
Physician Assistant
November 2000 to present

Kenneth Zimmerman M.D.
Internal Medicine
Physician Assistant
September 1999 to November 2000

Center for Orthopedics
Physician Assistant
June 1999 to October 1999

Great Lakes Physical Therapy
Owner and Physical Therapist
1990-2002

Saud Royal Family, Saudi Arabia
Private Physical Therapist
1994-1997

Back Institute of Buffalo
Millard Fillmore Hospital
Clinical Supervisor and Physical Therapist
January 1990-September 1990

Ken-Ton Physical Therapy
Consultant Physical Therapist
1988-1990

State University of New York at Buffalo
Physical Therapy Curriculum
Instructor in Physical Agents
1986, 1987, 1988

DeGraff Memorial Hospital
Clinical Supervisor of Physical Therapy
1983-1990
Staff Physical Therapist
1980-1983
Volunteer Experience
Arthritis Foundation, Patient and Community Services Committee
Lupus Foundation WNY Chapter, Medical Advisory Board and Board of Directors
Loth Lorien Therapeutic Riding Center Board of Directors
Kenmore-Tonawanda Chamber of Commerce
Holistic Complementary Therapies Network
Professional Organizations
American Physician
Assistant Association
American Physical Therapy Association
Western New York Physician Assistant Association
Awards
Marine Midland Business Excellence Award
1993
Additional Certifications
American Heart
Association Provider Course
Basic Life Support
Advanced Cardiac Life Support
Certification in Complex Management of Lymphedema, Feb 1995
Hypnotherapy - Hypnodyne Foundation, Jul 1994